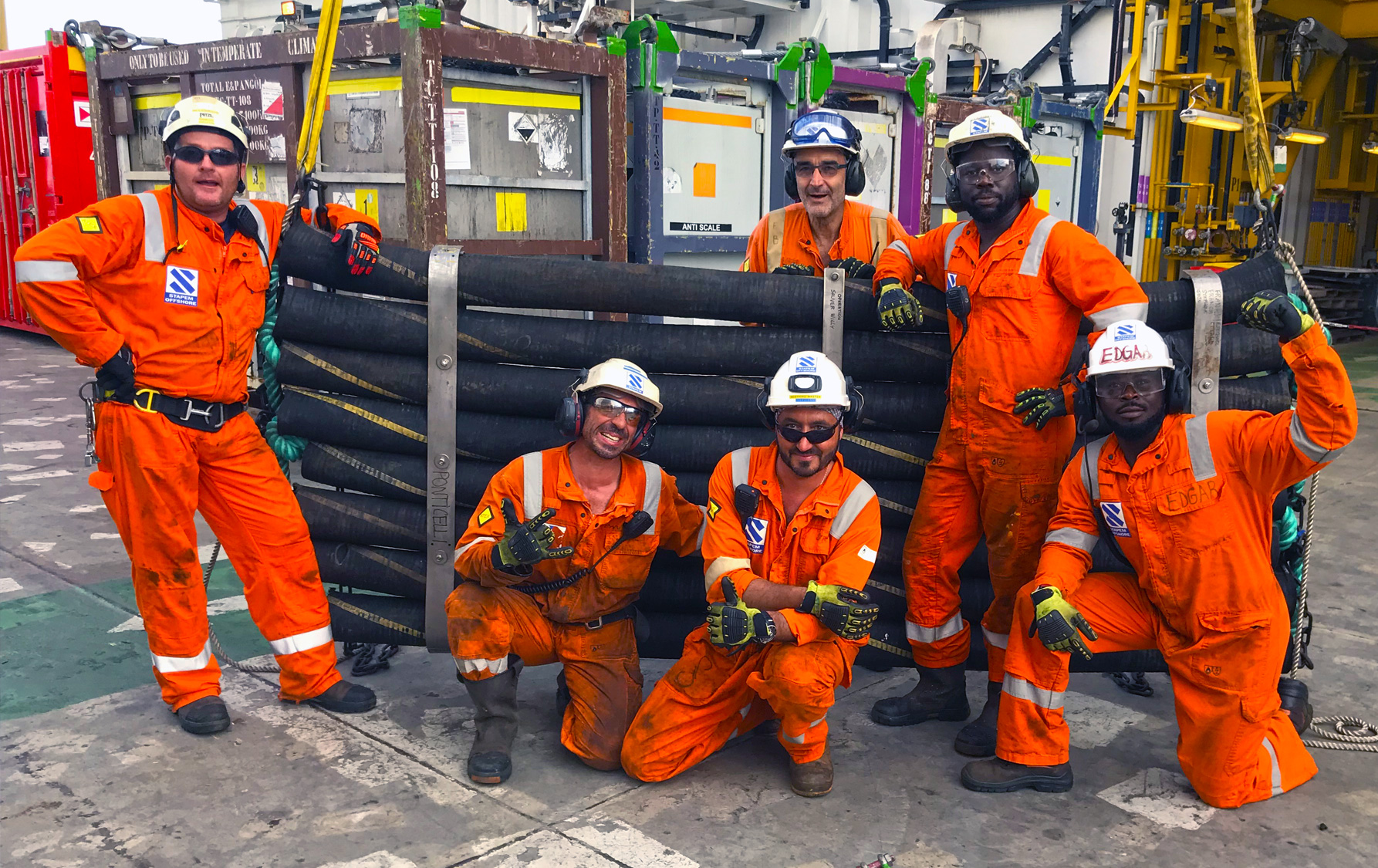 03 Oct 2019

A remarkable initiative
Offshore mooring systems operate in demanding environments

A number of large deep water oil fields offshore West Africa are developed on the basis of a large spread moored FPSO with a CALM buoy. Located at a safe distance from the FPSO, these buoys allow tankers to moor alongside for oil off-loading operations.
The tanker is usually moored to the buoy by means of a hawser arrangement, which consists of nylon or polyester ropes shacked to an integrated hook on the buoy deck. With the effects of the swell, the hawsers tend to rub against the buoy.
In order to absorb these shocks, the hull of the buoy is often protected by wood planks, which is sometimes severely tested in such demanding environments.

On the Block 17 (Angola) our staff ensure the continuity of operations safely

In order to avoid any wear of the wood planks – that could lead to a direct contact of the hawser with hull of the buoy (and a potential flooding of the cofferdam if fully damaged) – our dedicated team onboard Pazflor FPSO have shown remarkable initiative.
The STAPEM Offshore team manufactured an 'in-house' fender with some scrap hoses from a portable pump.
In a recent report, our client Total E&P Angola honoured the initiative of our staff : "The primary role of the fender is fully satisfactory after few months. The hull of the buoy is protected. Some improvements have been identified, a second version is already prepared with old hoses again and will be installed when necessary".
Congrats to Georges (Deck Superintendent), Franck (Coxswain), Stéphane (Berthing Master / Assistant Pilot), Franck (Pilot), Ezequiel (Seaman) & Edgard (Deck hand) for this brilliant initiative. Keep up the good work of addressing these issues again. Let's go Stapem!